---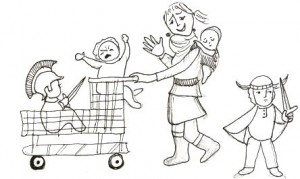 HISTORY
Once upon a time Soul Gardening was a blog which despite the broken side links, still offers some of our early articles (starry eyed and wet-behind-the-mothering-ears still) for you to peruse.  Still, we felt called to let that be, to roll up our sleeves and really be present to our children, to let others tend to the saturated online world of inspiration and to, ourselves, focus on our homes.  A couple years later, we prayed about it. We all came to the decision to go to a printed format in our mission to continue to offer inspiration to women all over the US and in nine other countries (so far!).  We wanted to give mothers something authentic and tangible that could be held and read while nursing a child or sipping some tea.  The printed word is a dying art and we are doing our best to hold strong against that.  In your mailbox filled with advertisements and bills, this journal aims to be something real and meaningful. We truly hope you enjoy our efforts!
---
WHO WE ARE:
Sia is mother to six children ages 14 to 2.  A former homeschooling mom-turned-public schooling mom, she is now an active studio potter and teacher. She enjoys cardboard box construction with her boys, picnics on the river, a good cup of tea, and saltwater marshes full of winter birdsong. She spent her first decade + of life in the Bay Area of CA and her second in Eastern Ohio. She has made her home in the Pacific Northwest for 13 years now and she's grateful to have landed in such a beautiful place on the globe: land of waterfalls and volcanoes and so many white-sky days. Sia can be found on Sia Eliza.
Mary is a mother of four boys, a girl and the wife to one scholar. Currently she is in the middle of her first-ever attempt at home-schooling, and pleasantly surprised that she does not want to burn her house down. She and her children (seven and under) spend their long Canadian winters planning their gardens, reading Paddington Bear, and tapping their one maple tree. Residing in Ontario, they have a house full of swords and shields, bows and arrows, hammers and nails, and books. You can peek into her world at Flying Squirrel.
Hope is mother of nine children. She spends some of her spare time recording homegrown folk albums with her husband and has a blast with it! Originally she's from Vermont, but makes her home in sunny Southern California. Not one with a green thumb, she is proud that this year she and her children have planted an herb garden, some lavender, and a strawberry patch.  She's crocheting again, reading some good books, making smoothies out of kale and enjoying the occasional NBA game on cable. Hope's music can be explored at Hope and Justin.

Ursula is the oldest of five sisters, born and now residing in rain-defined oasis of the Northwest.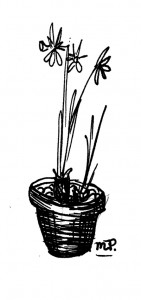 Staying true to her roots, she enjoys watching her six children grow under the same rain clouds and gorgeous blooms of Oregon's cozy Willamette Valley.  Despite completing her degree in art, she felt called to create in the form of a family and by making a home with her best friend. Her major interests are highlighted by her love for treasure hunting via Craigslist, estate sales or boutique stores… she revels in finding that object of her desire.
---
PURPOSE STATEMENT
Soul Gardening Journal is a non-profit organization. We print journals written by mothers, for mothers, designed to offer tangible encouragement and community as we respond to the call to grow in holiness and simplicity. Published under the patronage of Our Lady of Nazareth, our purpose is to express the beauty of this vocation, the heaven to be found in even the diapers and the dishes, and the power in making our days a living prayer.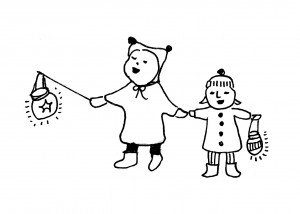 "Pick up a pin for the love of God,
and count the day well spent."
-St. Thérèse of Lisieux