If you are visiting this page in search of our promised Anniversary books, you're in the right place! However,  we have decided to postpone the printings to next year so as to bring it all to it's fullest potential and really make it all SHINE. It's going to be awesome.
---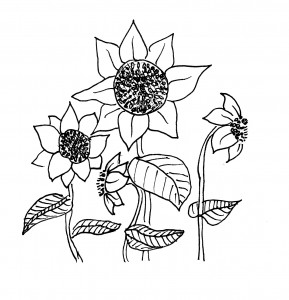 GROW: an anniversary compliation from the last decade of journaling. 
This will be the perfect gift for any mother: a lovely coffee table or bedside companion, with articles from new mothers, seasoned mothers,
and even grandmothers across the country (nay, the world!)
sharing their personal stories, reflections, poems, prayers,
and glimmers of inspiration as they journey together along the path of motherhood as fellow pilgrims walking to Christ. Gritty, deep, authentic, and beautiful, this will be more than "Chicken Soup for the Mother's Soul". GROW will be a wealthy spiritual and practical resource for any mother trying to find holiness in her everyday hustle of life. COMING IN 2020!

---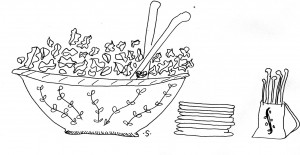 FEAST: 10 years of recipes from our very own kitchens and friends' kitchens, from Soul Gardening Journal's From the Kitchen column. 
These recipes are tailored for busy mamas and hungry children,
and feeding our families wholesome, healthy fare.
From hot cross buns on Good Friday, to the perfect vanilla birthday cake,
to what to pull together on a busy weeknight for dinner,
it will be a personal, practical, healthy go-to for you and your families, and look lovely on your countertop. COMING IN 2020!
---
MUGS
Black and white breakfast, lunch or dinner mugs, with logo and original SGJ artwork. 9 oz. glazed ceramic. Use for hot or cold coffee, tea, beer, soup, flowers… dishwasher and microwave safe. Prices include shipping!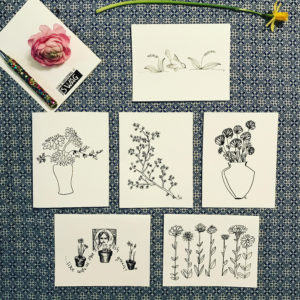 NOTECARD BUNDLES
Original journal sketches by Mary and Sia of the SGJ Crew.  Price includes shipping. An assortment of six standard 4.25 x 5.5″ folded cards with white envelopes. Blank inside. Swag Shop Logo on back.
Mother's Work or Floral.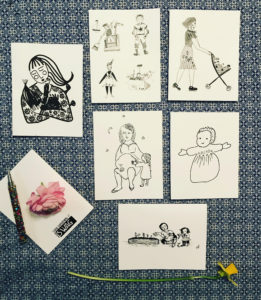 IMPORTANT: Until we improve our shopping system, please help us out by indicating in your PayPal notes what you are purchasing. We will follow up with a confirmation email as soon as we are able.
100% of our Swag Shop proceeds go to this ministry. We have created some lovely little items that you can treat yourself to or give as a gift.