Working at Playing
I am not the kind of Mom who relishes getting down on my knees and playing "Bunny Family," or setting out picnic after picnic of play food, or even building houses with Lincoln Logs. I had my childhood, and I grew out of it. One summer before I was married, I took over the last few weeks of a nanny job for my sister who was entering a convent. One of the girls in the family asked me to roll down a hill with her, tumbling over and over down the lawn. My first reaction was "No way!" but I thought I was being stuffy and wanted to prove how much fun I could be. So trying not to take myself too seriously, I consented. It was awkward. I forced myself over every bump of dirt and straw-grass until I rolled into the gentle slope of the bottom, sat up and sneezed, and thought,
"I don't care to do that again. Ever."
     Now that I'm a Mom, I find myself confronted with the dilemma of whether or not to roll down those hills again. Real hills aren't the issue, as we live in the Heartland, on a flat property surrounded by flower gardens and tall trees. Rather, my little boys want me to play games with them all day long. Where are the other boys in the neighborhood?! Oh, right: daycare. So, it's up to me. I want to be fun! I want to create memories for them which will create their magical childhoods and fire their imaginations!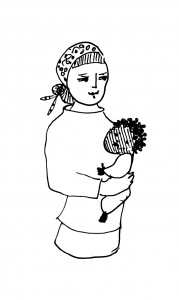 I thought that I, like Saint Paul, had "put away" the things of my own childhood in order to (try to) be an adult, yet I find myself being a child again. I'm not a kid-at-heart kind of person, nor am I an old soul. I'm a thirty-something Mom with interests beyond Playmobile, and I tire easily of child's play. I'm great at reading to my boys, providing "activities" and putting delightful artwork on their walls; it's the imaginative child play which is hard for me. What I am realizing, though, is what Ecclesiastes said best: there is a season for every purpose under Heaven. This is my season to set aside my pursuits in order to help my children.
     I do not play the way I did as a child, nor am I supposed to. It would be irregular if Chutes and Ladders genuinely captivated me for hours! But I do create the space for my children to play. So for me, playing is intentional. I must play Memory like I'm in it to win it because my children need me to. On certain days, I answer to Mrs. Willy Bunny or Mrs. Huckle Cat because my son likes that. You can find me on the rug with blocks and Legos and stuffed animals because the boys with me are smiling.
     I've discerned that this is my current cross. It's not a big cross. If crosses were counterpoint to graces, mine would compare to St. Thérèse's act of picking up a pin: small to be sure, but meaningful if done for the love of God. Transforming tedium into an act of love is a beautiful ability. John Keats once said that the beautiful thing about poetry is that it makes everything interesting. He meant that shedding the right perspective on an object or experience changes the way we understand it. A graceful Mother is like an inspired poet because she can transform and add real depth to every moment through the lens of her perspective. So when I put together a train track for the love of God and my family, that is time well spent.
—Hilary writes from St. Louis. She loves berry and apple picking with her two boys and their family friends, knitting and cooking. Recently, she tried her hand at cheese making with some success. Most especially, she loves late night conversations with her husband and the grip of tiny fingers on her arms.

© Soul Gardening Journal. Permission for distribution and personal use granted so long as credit is given and linked, when applicable.