In 2007, I gave birth to my second son. My first was 19 months old and had been the easiest baby I could have imagined. So much was about to change. My second son was what people often term a "high-needs" baby. I was not prepared for the constant crying that nothing seemed to soothe. So, I nursed and nursed and nursed. Nursing didn't even help much, but while he nursed he was quiet and we could breathe for a moment. Fast forward just a few months. He wasn't crying constantly at this point, but he needed me close all the time and woke often at night. We'd fallen into a demanding, but comfortable normal.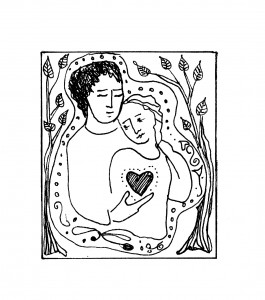 It's early morning. All are asleep but Levi and me, as usual. A Sunday morning, I'm sunk into the couch in his little room, head back, eyes closed, nursing. Is this the end of the night or the beginning of the day? Time is so hazy when you spend much of the night awake with a baby. The phone rings. It's my mother. I know this isn't good. She is on the way to the hospital to be with my father. He had been there for some weeks now, after a debilitating fall, trying to recover some use of his legs. She tells me she will call me back when she finds out why they've called her to be there immediately. I wait, nursing. She calls back. "Dad's passed away." I cry. She comforts me. She must go. I sit, crying, nursing. I go to wake my husband and tell him. I later find out that Dad had just died, that in fact I could pinpoint exactly what I was doing at the moment he left this world. I was nursing my helpless baby. Had it not been for that, I would have been sleeping. This small fact, seemingly insignificant, gave me great comfort. I still don't know the reason. I just know that I was relieved that at the very moment that my father's life on earth ended I was awake and I was feeding and holding his grandson, all the way across the country. I was there and I was doing something important, life-giving.
The next few days would be a jumble of phone calls, arrangements quickly made. I flew home to Kentucky (at the time we were living in Southern California), with only Levi. My husband and other son were to come in a few days. The flight home was long and exhausting. My time there was difficult, painful, and good. There was one thing that remained completely consistent, that drew me back to God and to my family, that centered me: My high-needs baby. The baby that had for months felt like too much for me, though a blessing and much loved, was suddenly my anchor to the world of the living. On the airplane, he needed to nurse often and fall asleep in my arms. My mother's house ("my mother's" without Dad) was unfamiliar to the little baby, so at night he needed nursing even more. After I went, with only my mom and sister, to see my father one last time before they closed the coffin, Levi needed me to feed him, to sustain him. Later that evening in a restaurant, after the visitation, he would need me again. I'd slip into a little hallway and nurse him, away from everyone. I felt a peace, to be alone a moment, to take it all in.
Had Levi not needed me so much, where would I have found those moments to be still, quiet, prayerful? Mothers need these pauses, punctuating their day, to sit, to sustain life— the baby's and their own. If we let God's grace move us, that baby's hungry cry can be a call to prayer. A hungry cry mirroring the hungry cry of our very soul. Feed your baby and direct your heart toward God. Spend those minutes in prayer, feeding your relationship with the Beloved. Every evening for months to come I would sit, nursing Levi, praying for and thinking about my Dad. I felt great peace in those silent minutes before slipping him into his bed; the peace extended like a river, as the Lord says in Isaiah 66, when "You will nurse and be satisfied… you will drink deeply and delight in her overflowing abundance… As a mother comforts her child, so I will comfort you…" I too, am a high-needs child, comforted and cared for, if only I will stop to drink deeply.
-Betsey Reed 
© Soul Gardening Journal. Permission for distribution and personal use granted so long as credit is given and linked, when applicable.