Kitchen Sink Prayers
… with Tea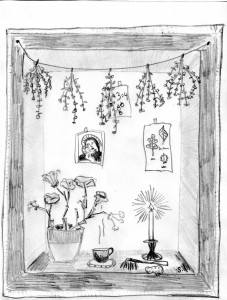 This year, human frailty and my need—my thirst— for God, has really been in the forefront of my mind. I am sure that many of you are far ahead of me in the spiritual growth department;  I am such a novice! Every day I feel that I am at the beginning of a long, very rocky—though beautiful— journey… this journey of one's soul, of one's relationship with God. And I have been talking to Him day-in, day-out, ever since I was a child! I have always prayed. Yet I am just a baby— a mere beginner.  These past couple of years, I have acutely felt that knock-you-down desperation for grace: "I can't do this, God! I am weak, I am frail, I am hurting, I am ill-equipped for the daily battles… I am a weary pilgrim. I am nothing without you."  Like a drug addict or an alcoholic on their knees, or a man lost in his travels turning to a map, or a starving person begging for food, I am there, too— genuflecting in my heart as I wash the dishes; kneeling at the tabernacle; bowing down in my heart as I bathe my children; lying down at night saying novenas while I sip my herbal tea in bed, eyes closed.  And so my prayer becomes: I cannot do this alone. I can only do it with your help. Give me the strength to bear my crosses. Give me the strength to become the woman you want me to become.
       One thing that I have done over the course of all my years of adulthood has been to write bits and pieces on to little pieces of paper, sticking them here and there about the house— especially in places where I stand for long periods of time, for instance at the sink as I wash the dishes. The writings may be little prayers; passages from Scripture; a lovely poem; something that I must be reminded of each day; words that bring hope;  parts of a favorite litany… any phrases and word clusters that inspire, lift up, call me onward, into the Light.  I stick them to my bathroom mirror, the closet door, the kitchen sink window… all at eye level. I love these little reminders, these little bursts of life and hope in my busy days.
Another great thing about your own little thoughts, reflections and prayers from the heart being visible throughout your home is that they may happen to strike a chord with some friends who are over for coffee, or Sunday brunch, or a family dinner. They may end up taking home completely new food for thought, as I have often done when visiting my own local friends. My daughter's godmother had, taped to her kitchen cupboard, a good quote from Blessed Pope John Paul II's The Role of the Christian Family in the Modern World: Children must grow up with a correct attitude of freedom with regard to material goods, by adopting a simple and austere lifestyle and being fully convinced that "man is more precious for what he is than for what he has".  Whew! Talk about a quote that is very compatible with Pope Francis' messages this year!  Another dear friend here has an excerpt from St. Faustina's Diary (#163) taped to her wall right next to the kitchen sink window where she spends hours on end, each week washing dishes (don't we all!) as her young children play outside within her sight. Do a Google search for the whole thing, but sip your tea and let this little bit marinate in your hearts for now: "Help me, O Lord, that my eyes may be merciful, so that I may never suspect or judge from appearances, but look for what is beautiful in my neighbors' souls and come to their rescue."
      Taped to my kitchen window is currently this little prayer which I wrote out one day when needing to be reminded to see somebody as Christ sees them, and to love them even more. It is taped directly above three icon holy cards of Our Lady, Christ, and St. Anne: "Lord, give us good cheer / and the strength to love each other / as You have loved us."
       Underneath Ellie's tiny kitchen crucifix are three prayers: the calming, gentle reminder from St. Francis de Sales to: "Never be in a hurry; do everything quietly and in a calm spirit. Do not lose your inner peace for anything whatsoever, even if your whole world seems upset.". (I know I need to hear that about every day, all day!) and: "SERVIAM!" Finally, she has the wise, famous words of Blessed Teresa of Calcutta there too: "Love to be real, it must cost—it must hurt—it must empty us of self."
One of Ursula's very favorite reminders is, "Age quod Agis": "Do well what you do".  It is the motto of Jesuit High School in Portland, Oregon, where it was learned during her high school years. Striking  a chord, it has resounded in her heart and mind throughout these many years since.  And "Ad Majorem Dei Glorium": "All for the greater glory of God" she had engraved on the inside of her husband's wedding band… another good reminder!
A priest that was very formative in Hope's life had taped to his kitchen sink: God is to be found among the pots and pans. (St. Teresa of Avila)  She doesn't even need to see the words anymore to remember that quote whenever she does the dishes.
Under Mary's crucifix, taped above her sink, is the Prayer of St Ephraim: O Lord and Master of my life, Keep from me the spirit of indifference and discouragement, lust of power, and idle chatter. Instead, grant me, your servant, the spirit of wholeness of being, humble-mindedness, patience, and love. O Lord and king, grant me the grace to be aware of my sins and not to judge my brothers and sisters, for you are blessed, now and ever and for all ages.  Amen. And, written on a stick of wood: "Seek Peace and pursue it" which is her prayer and her goal for these homeschooling days.
These are some examples of our own current scribbles; what are yours? These prayers guide us inspire us, keep our paths lit. They give us the affirmation we need on those hard days when so many things are going wrong or when we are weary. They also guide us on the normal, good days, savoring the precious moment in a spirit of thanksgiving and gratefulness! After all, we are all pilgrims journeying to Heaven. Oh, Jesus! Oh, Mary! Help us. Guide us. Be our water in the desert, our light out at sea.
And with these little kitchen sink prayers to rest on, I leave you with my own tea recipes. I love to cradle mugs of tea in my hands whenever I settle in for lesson work with my children around the table, in the bathtub at night or on the couch as I read to the kids. I even take a cup out to the garden or studio as I do my work. Holding something hot eases the pain of arthritic fingers, calms the fried nerves of a busy-bee mama and helps to relax the muscles in our tired bodies.
Mother's Calm
1 cup dried lemon balm leaves, crushed
1 cup dried German chamomile flowers
1/2 cup dried rosehips
scant 1/4 cup crushed dried hibiscus
Mother's Perk
1 cup dried lemon balm leaves, crushed
1/2 cup dried rosemary needles
1/2 cup dried peppermint leaves
For each kind of tea: place all into a big bowl; mix by hand until evenly distributed. Note the beauty!
For one cup: Place 1 Tbs tea mix into an in-cup cylindrical tea strainer/infuser. Place into your favorite mug; Pour boiling water over tea leaves and let steep for about 4 minutes.   For multiple people: just take a handful (or about 1/8 cup) of a tea mix above, place into your 4-cup Pyrex glass measuring cup or kitchen pot; pour boiling water over tea leaves;   steep for 4 minutes;  strain through a mesh strainer as you pour tea into each cup.
I hope you enjoy your backyard teas as much as we do!
-Sia, whose garden (beds of weeds, really…)  is bursting with enough lemon balm to last her years…
—————–

Resources: Lemon Balm, Peppermint and Rosemary can be ordered from an herb or tea company, or harvested and dried from your own backyard. Chamomile, Rosehips and Hibiscus can all be purchased through bulk herbal suppliers, your local herbals shop. I use Davidson's or Frontier, ordered in the bulk bags through Amazon.
Supplies: Tea strainers are the key to being able to make delicious loose-leaf or fresh herbal teas at home. If you don't have tea strainers around, get some! They're a staple for every kitchen. (Of course, you could always use the metal pasta colanders…)
Storage: keep these herbs fresh for flavor preservation! Carefully pour into tall large jars with a wide-mouth funnel or into Ziplock freezer bags; store on the pantry shelves or in the tea cupboard.
Steeping or Sweetening: These are both delicious sweetened with honey or plain. I like the Mother's Calm sweetened and the Mother's Perk unsweetened. DO NOT OVER-STEEP THE ROSEMARY (Mother's Perk) TEA. It gets bitter very fast. The Mother's Calm could sit all day and be fine. But, Lord forbid… not the blessed Rosemary….
–Sia
——————-
© Soul Gardening Journal. Permission for distribution and personal use granted so long as credit is given and linked, when applicable.